About Us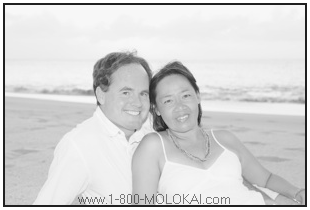 1-800-molokai.com is one of Molokai's top visitor resources since 1995. We specialize in making your experience on Hawaii's "Friendliest Island" one to remember. From vacation rentals to wedding ceremonies our specialists will guide you every step of the way. We are proud to say that we have over 30 years of personal experience on this beautiful island.
We can assist you with every aspect of your next trip to Molokai simply call or email us to experience the "yester-years" of Hawaii.
Please enjoy the rest of our website.
Mahalo!!,
Kiku and Kevin Donnelly